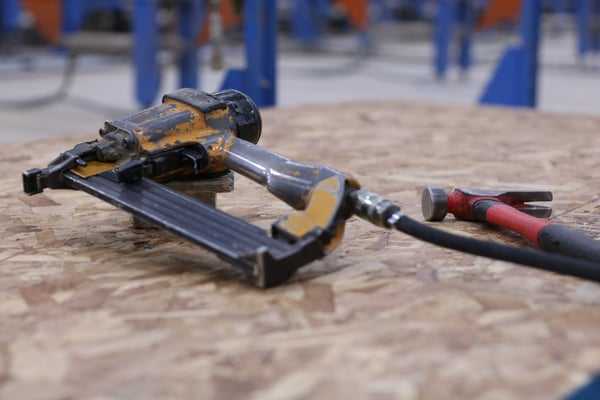 Let's just say it: choosing a home builder to partner with is stressful. After all, you're entrusting this company with one of the biggest endeavors of your life -- building your new dream home.
While this guide does not completely encompass every home builder in Buffalo, we hand-selected a few of our favorites based on important criteria in the hopes that it offers a good place to start with getting the ball rolling on your new project.
Rather than searching through hundreds of home builders in Buffalo, take a quick look at 8 of our favorites.
Does Barden Build Homes?
Before we jump into home builders, we thought we'd quickly explain the difference between home building, and what we do, which is panelized construction.
So, what is the difference?
Barden provides drafting and engineering services, panelized framing manufacturing, and supplies home building materials and products to independently owned and operated custom home builders.
The panelized construction method of building is also considered ideal for rural and scattered lot building, and can be best suited for people in the Buffalo area who are outside of a main town or suburb.
Our partnership with these builders allows them to provide a single point of contact experience for custom home buyers. Often, our close relationship with home builders causes some confusion -- as people mistake Barden for being the home builders themselves.
Interested in Building Barden Home in the Buffalo Area?
We've been supporting the creation of homes in the Buffalo area for over 70 years, and would love to add building your home to our list.
One way to get started on your future Barden home is to contact us. We can match you with a local dealer or builder to give your project some legs.
Alternately, feel free to explore some Barden independent dealers in your area:
No matter how or where you get started, we can't wait to partner with you for the exciting process of building your new home.
8 Home Builders in Buffalo to Check Out
With that cleared up, let's spotlight some home builders:
Natale Builders

Schott Contracting

Jurek Builders

Alliance Homes

Prestige Designs

Kelkenberg Homes

Philip Vogt Construction

Thomas Johnson Homes
We've included some more information below about each home builder:
1.Natale Builders
Natale Builders has been building beautiful custom homes in Western New York for nearly 50 years. Their speciality can be best described as blending a luxury home feel, with the benefits of a green home.
They focus on energy efficiency and meeting green standards with the goal of leaving an overall positive impact on the community that they are developing.
You may have seen a Natale home if you're in Amherst, Lancaster, Clarence, Orchard Park, or Hamburg -- as well as a few other places throughout WNY. Looking to see more of Natale Builders' homes? Find an open house near you by browsing the current listings on their website.
2. Schott Contracting
Schott Contracting is a Niagra based home building team lead by Shawn Schott.
They are a high end builder, and can provide services ranging from new build homes, exterior remodeling, foundation repair, and more. Operating from Grand Island to East Aurora, Shawn and his crew are responsible for some of the area's largest and most breathtaking new homes.
To see a complete list of services that Schott Contracting offers, as well as contact and location information, check out their profile on Porch.
3. Jurek Builders
Jurek Builders has been building luxury homes for over 40 years in the Western New York area. They pride themselves on being known for lavish designs and fine craftsmanship.
They also focus on making sure each home is a one-of-a-kind product, and ensuring the process is easy and painless for the new homeowner.
Their family team is located in Amherst, and contact information can be found on their website.
4. Alliance Homes
Alliance Homes has been building homes in the Buffalo area for almost 30 years. They focus not only on home building, but on creating communities that are safe and serene for families everywhere.
They have open houses throughout the Buffalo area frequently if you are interested in viewing their homes.
Additionally, they have helpful resources on their website including their design center, remodeling hub, contact page, and more.
5. Prestige Designs
Prestige Designs offers both custom home building and remodeling services. Furthermore, they have an in-house team that works directly to develop custom floor plans that are perfect for any handicap accessibility accommodations that may be needed.
Prestige has won quite a few awards for their impressive repertoire of homes and designs that have been accomplished in the past 30+ years. Read more about the Prestige history, founder, and awards on their website.
They are located in Williamsville, and can be contacted for a quote here.
6. Kelkenberg Homes
Kelkenberg Homes is a custom home builder that embodies their slogan: Dream, Design, Build. Kelkenberg is a second generation, family owned business.
They focus on ensuring the home-buyer enjoys the building process, and views it as an essential piece to making their dream home become a reality. Be sure to check out the gallery on their site to see the range of design options available when partnering with them for your home.
They have both an office in Clarence and a model home in Akron for potential homeowners to get in touch and get started on their project.
7. Philip Vogt Construction
Philip Vogt Construction is known as the Ellicottville Design Contractor. But Phil actually started his business in Tonawanda in the 1980's as a handyman, and has grown his services from there.
Phil prides himself on using high quality products for every design, and providing an enjoyable customer experience. He emphasizes the importance of customers feeling comfortable with him and the team working on their home, and requires professionalism and respect on all projects. Read more about Phil's philosophies here on his site.
You can also find Phil's contact info on the site to reach out if you're interested in partnering with him for your dream home.
8. Thomas Johnson Homes
Thomas Johnson Homes has spent 35 years providing customers with fine custom homes in the Buffalo and Western New York area.
Throughout the years, Tom and his team have built approximately 10-15 custom homes per year in the WNY area. Virtual tours of their homes are available on their website for potential homeowners to take a look at.
If you're looking to learn more about Thomas Johnson Homes, you can reach out right on their website, too!
Are You a Buffalo Home Building Company Looking to Partner with Barden Building Products?
Whether you're an established home building company, a remodeler, or even a small builder just starting out -- if you're looking for a way to set your company apart and grow your business, contact our team!
Our goal is to empower builders, and turn their small team into an army.