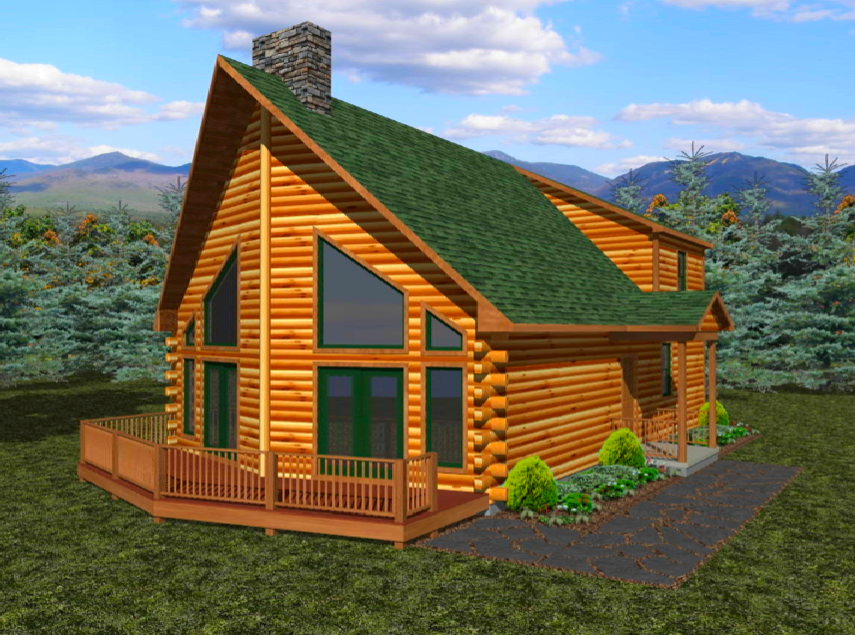 There's just something about a log home.
Barden Building Products and our Barden Independent Dealers have built our reputation on designing, supplying, and constructing 100% custom homes. You can see them in neighborhoods from Michigan to Maine.
While panel-built homes of all shapes and sizes are our specialty, did you know that we also design rustic and handsome log homes?
To be sure, a Barden log home is not to be confused with a backwoods hunter's cabin that doesn't meet modern building standards or energy efficiency requirements. Through our advanced building system, we can create beautiful log homes that are customized to meet your needs.
The creation of Barden log homes starts the same as any other Barden home with our standard panelized wood framing building process. The framework is then covered by half logs, or log-face siding, instead of a traditional vinyl siding. In preserving the overall character of a log home, we do offer the option to install tongue-in-groove pine paneling to interior walls and ceilings.
Through our construction methods, Barden log homes feature modern insulation, plumbing, and electrical service, while still providing the striking look and feel of a log home.
And just like all our homes, Barden log homes are 100% customizable. Many of our log home floor plans feature:
Multiple bedrooms
Several bathrooms
Custom, full kitchens
More than 1,400 sq. ft. of living space
And much more!
What's more, our log homes have none of the drawbacks of a traditional log building such as:
Annual maintenance and exterior cleaning
Higher susceptibility to damage by termites and other pests
Higher insurance costs
One of the great things about our building methods is that you can take any one of our floor plans and opt for it to be a log home -- our Neilson's Nest log home is a great example of this.
Ready to Get Started on Your Log Home?
Check out the new log home section of our website or contact us to learn more!