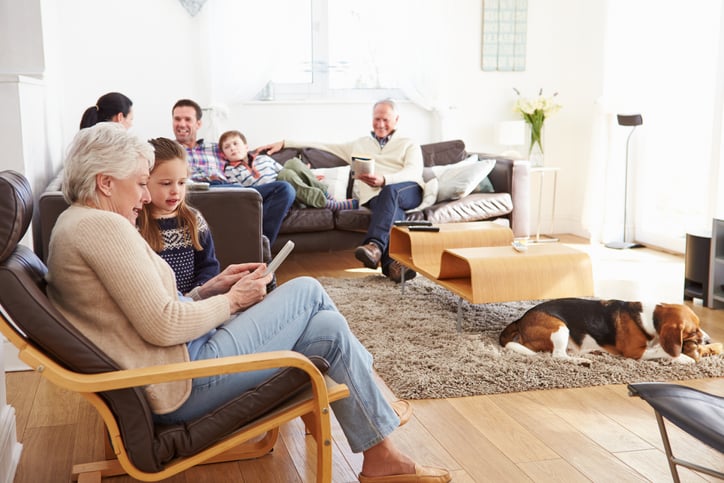 "Who will live in your home?"
When it comes to custom home design, that's one of the first questions to consider. After all, the answer directly impacts almost everything about the home.
That same question, however, carries more weight than it ever has. And the answer isn't about the next person who will own your home.
The number of people living in a home is increasing, and it's not because families are getting bigger, per se. Rather, living situations are becoming multigenerational. Whether it's economics or practicality, it's not uncommon for a homeowner to have family members living with them for a brief stint or the long term.
Custom home construction provides the perfect opportunity to create a house that accommodates all who live within it. Through thoughtful design, it's more than possible to create a multigenerational house plan that provides adequate space, separation, and amenities.

Common Elements of Multigenerational House Plans
Multigenerational living situations aren't a fad.
In fact, multigenerational housing has been on the rise since the 1970s.
A Pew Research analysis of census data found between 1971-2021, "...the number of people living in multigenerational family households quadrupled during that time period, reaching 59.7 million in March 2021."
Making for a successful multigenerational living environment means designing a custom home to be as functional as it is comfortable. It also requires careful planning – sometimes for future use that's a decade or two away.
The most common elements of house plans for multigenerational living include:
Accessibility
In-law suites
Finished basements
Duplexes
1. Acessessbility
An accessible home doesn't mean installing grab bars or ramps throughout the entire house. Certainly, those are components of accessibility and may end up in your final design. However, building an accessible home means creating a house that's easy to use regardless of physical ability or age.
Designing for accessibility usually does center around accommodating older relatives, and should be part of long-term planning for the home. But it also impacts the immediate use of a home, especially if you have little ones.
Perhaps it makes sense to include an en-suite bedroom on the first floor. Or maybe one of your bathrooms should have plenty of floor space and a walk-in shower. And light switches – what height should they be at?
In many ways, designing for accessibility isn't about making a home safe as it is about making it functional for all.
What Does an "Accessible Home" Feature?
Check out our article, "Custom Home Universal Design for Accessibility."


2. In-Law Suite
Essentially self-contained spaces within a home, in-law suites provide separate living quarters that allow for privacy while still being under the same roof as the rest of the family.
Often, an in-law suite includes a bedroom and bathroom, with either its own kitchen or access to one within the main house. It's not uncommon for them to also have their own living room and entrance. Scaled-down versions can be as simple as a larger bedroom with a private bathroom.
In-law suites provide a space for relatives of any age to live comfortably and safely while remaining close to family. When unoccupied, an in-law suite can also serve as a home office, guest room, or den when needed.
3. Finished Basements
Often only viewed as a space meant only for utilities and storage, the basement provides an opportunity for expanded living space. A finished basement can serve multiple purposes, as it can include:
Guest bedroom(s)
Play area for the kids
An entertainment room
Home office
Home gym
Taking the space a step further, a basement can be converted into the in-law suite. As an added bonus, basements also offer natural soundproofing, so finishing one as a separate living space can provide both privacy and quiet.
Pro Tip: Considering a finished basement? Make your decision on that during the design phase of your multigenerational house plan. It's much easier to incorporate elements such as higher ceilings or plumbing for a bathroom during your home's construction.
4. Duplexes
Maybe your parents want to be close to your family while maintaining a degree of separation. Or maybe your adult children want independence while still being close to home.
Regardless, designing a custom home as a duplex bridges gaps between a single home and two living spaces.
Often, both sides of the duplex are mirror images of each other -- identical floor plans and features. But they can also be customizable to fit the needs of each family unit, with variations in size or layout on either side. Duplexes offer independence but with the added security of living close to family.
When not housing a family member, the unoccupied portion of a duplex can become a source of income -- they're easily rented out.


Planning & Building for the Future
Even if your custom home is the one you intend to live the rest of your life in, it's impossible to plan for every last scenario for its use. Things happen. Needs change.
Though you may not have elderly relatives or kids at the moment, it's important to still consider these potential uses down the road in your custom home design plans.
The best time to explore possibilities for your home and integrate multigenerational living elements is best done during the design phase. In the initial stage of conceptualizing your dream home, there's no harm in seeing what a multigenerational house plan could look like with an in-law suite or a finished basement. An experienced custom design home builder should be able to help you balance your vision of the perfect home with the utility of accommodating multiple generations.
If multigenerational design is necessary for your home, there's no better time to incorporate your "must haves" than during construction. Adding an in-law suite or finishing a basement is less costly and easier to do while your custom home is being built. Even if you're not able to fully finish your home -- e.g. an unfinished upstairs in a Cape Cod -- having spaces ready for work later makes a world of difference in accommodating relatives who come to live with you.

Multigenerational House Plans | Creating a Home for the Family
Multigenerational living is on the rise as more and more families are finding benefits to having multiple generations under one roof. Though it may require some careful planning, there are many ways to accommodate for multigenerational living with a custom home.
Whether you choose to finish your basement into an in-law suite, design a duplex, or plan for the future, it's important to think about how your family might grow. By incorporating multigenerational elements during the design and building phases, you'll create a home that can adapt to the changes and needs of your family for years to come.
What Else Should You Consider for Your Custom Home?
Our UItimate Homeowner Toolkit has the answers! Download your copy right now: