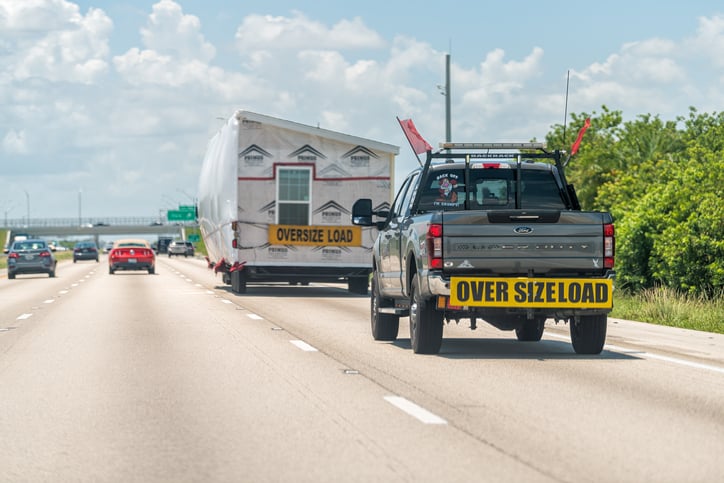 It's a common refrain many hopeful homeowners hear – "the housing market is rough."
That's been the case for several years now, and it's likely to continue. Finding the perfect pre-existing home is harder, and it's more expensive, too.
For many hopeful homeowners, custom home building is the next option. But new home construction has its own set of issues – primarily stemming from the supply chain – that make things tough, too.
Unfortunately, there's no silver bullet that gets the supply chain functioning as it once did.
However, prefabricated building methods do provide a means to avoid – or at least exert more control over – whatever comes up.
When it comes to panelized vs. modular home construction, one method meets many of the challenges construction now faces.
(Spoiler alert: it's panelized construction).
The Persistent Woes of the Custom Home Building Industry Supply Chain
As it's been for the last several years, the housing market remains a tough place.
On one hand, the real estate market continues to ebb and flow with the national economy, which is still tumultuous. According to Forbes' predictions for the spring 2023 housing market, those looking to buy a home should expect more of the same:
High listing prices
High mortgage interest rates
Limited inventory of available homes
For new home construction (custom or otherwise) the picture is less rosy – especially for modular construction. Lumber prices remain a point of contention; while they're down, lower prices are taking their time impacting new construction costs.
Making matters even more trying – the labor pool. The construction industry as a whole is facing a drastic labor shortage – to the tune of about a 500,000 workers.
Modular Construction Vs. the Supply Chain
As a custom home-building option, modular homes do offer some perks that are worth considering:
While they don't require a lot of customization, they do offer the future homeowner the option to have a say of some design elements
On-site construction time is limited by the fact the majority of construction happens off-site (which usually takes several months)
Because the home is completely prefabricated, costs are easier to predict while the cost coming out of the factory may be predictable, site, foundation, and cost to finish the building onsite have the same exposure to market fluctuations as stick or panel building.
But given the state of the industry and the building materials supply chain issues, these benefits are hard to realize, making modular construction a harder sell.
The building materials construction supply chain is where the real hold-up is. In short, many of the same supply chain issues home builders faced during the pandemic still persist, and it's tough to say when they'll end.
For the foreseeable future, new build projects will still face issues in sourcing materials. In modular construction, this presents a much bigger problem, as a delay with a single component can completely stop work on a project. In addition, what material inventory is immediately available comes at a high(er) premium, driving up a project's costs.
Compounding matters further – modular homes are in demand. In normal times, excessive demand is the kind of problem any custom home builder hopes to have. However, with supply chain shortfalls, many committed future modular homeowners find themselves on a waitlist. The waiting period can last well beyond a year, undoing any potential to reap the benefits of modular building's faster construction times when compared to stick building. For builders, this means answering "How long does it take to build a custom home" harder.
So where do hopeful custom homeowners turn?


Panelized Homes: Minimizing Supply Chain Issues on Your Custom Home Dreams
For those who want to take advantage of a custom home build without having to build it from scratch, panelized homes provide an efficient and cost-effective alternative.
Though panelized construction is still subject to the same market conditions as any other home-building method, it's less impacted by them when things go south.
So how does panelized construction help future homeowners side-step supply chain shakiness?
In three primary ways:
Faster mobilization
Flexibility
Agility
1. Faster Mobilization
The off-site construction element of panel-built homes is strictly for the structural building components. Thus, the factory construction isn't held up by supply shortages or stymied by delivery issues. As soon as a custom home's floor plan design is settled, a panel manufacturer can get right to work, and have finished products in just a few weeks (usually, about six).
And because the prefab work is largely done using lumber, it's easier for a panel manufacturer to take immediate advantage of prices as they are. In other words, there's more consistency in what material costs are because purchasing is limited by both the types of materials purchased and a smaller buying window.


2. Flexibility
This takes several forms in panelized home building:
Panel-built homes are 100% customizable. Unlike modular homes, adjustments to panelized home floor plans are much easier to make and don't require complete overhauls to the rest of the design. In addition, panelized construction does not lock you into a limited selection of what goes into the home. For instance, a modular home dealer might have a small selection of standard light fixtures to choose from. While swapping for an option you want is possible, you might not get a credit for the additional expense.
Unlike modular construction, there's room to make changes on the fly during construction. To be sure, this does not mean a homeowner can suddenly decide to completely change the layout of their home halfway through its construction. What this does mean is that it's possible to make minor design tweaks or change material selections without a major impact on the project's timeline or overall price.


3. Agility
During on-site construction, it's easier to pivot between tasks or coordinate deliveries to keep progress moving forward. For instance, siding installation isn't impacted by a delay in a window shipment.
Because modular construction happens practically all at once in a factory, not having a material exactly when it's needed has a compounding effect on the rest of the project. In short – work stops and what's built sits idle.


Evaluating Modular Vs. Panelized Construction in 'Normal' Times
While continued supply chain issues make home building of any sort a challenge, when it comes to modular vs. panelized construction, there are some comparables that remain constant.
Build Site Friendly – As its name indicates, modular homes comprise several modules – all of which have to be delivered. And these aren't small deliveries either – they're entire sections of a home. For crowded urban and suburban areas or narrow build sites, taking a modular delivery can push planning and coordination to their absolute limits.

Complicating things more is making sure there's not only enough space to maneuver the modules to their final spot on a site, but also accommodating the heavy equipment needed to move them in the first place.

A panelized home's panels are delivered as needed and are much smaller.


Customization – A repeat from above, but one worth mentioning again succinctly: Panelized homes are 100% customizable. Modular homes aren't. For a homeowner who's looking to create a house that's truly theirs in every way, panelized construction is the best bet.


Enhanced Labor Control – While modular homes are often touted as taking less time to build, that's not entirely true. Yes, on-site construction is less, but that's only because so much work happened in a factory where weather delays weren't a concern.

Panelized construction can happen with a smaller workforce plus any special trade workers (e.g. plumbers and electricians).
Cost Efficiencies – Panelized home construction offers better cost control than modular building due to several factors. The smaller size of panels in panelized construction allows for more precise material estimation, reducing material waste and costs. Panelized construction also allows for greater customization and flexibility in design, which can lead to more cost-effective solutions should an issue come up.
And to our last point, panel-built custom homes require fewer workers to build, meaning less labor costs.


Making Your Custom Home a Reality, Whatever the Odds
There will never be a home construction project – modular or panelized – that isn't affected by some external issue. Hiccups, bumps in the road, or something more serious should be expected to a certain degree.
That said, the impact of issues outside of your control is more manageable with panel construction custom homes.
Take a Closer Look at Planning Your Panelized Construction Project
Download a copy of our Custom Homebuilding Timeline Checklist: