Is a Custom Built Home the Best Decision for You & Your Family?
When considering going down the path of custom home ownership, be sure to evaluate these factors:
Budget
Land
Location
Timetable
Future use
Commitment to process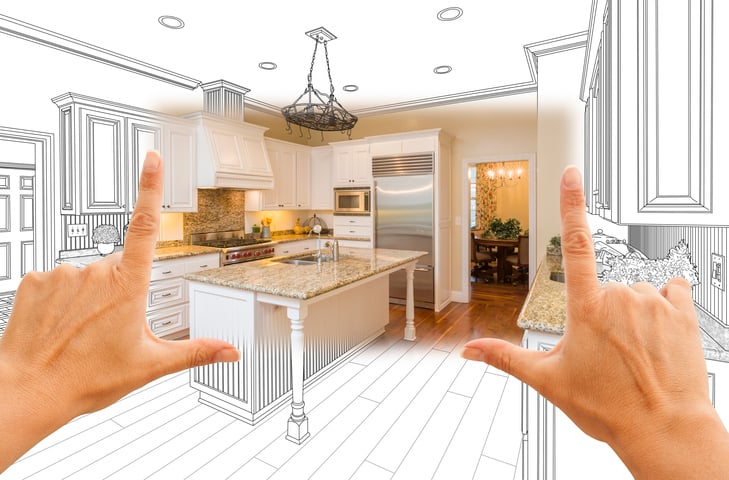 Imagine getting home after a long day at the office. As you pull up your driveway and your home comes into view, everything about it is just right.
The landscaping is on point. There are visually appealing architectural elements that set it apart from other houses in the neighborhood. And even the color of the window shutters is ideal.
Inside the home is much the same. All the amenities meet your wants and needs. The layout is practically perfect. This is indeed your home, no question, because it's a custom built home that you helped design.
For custom homeowners, this is a daily reality. The house they come home to every day is one that they couldn't imagine being without.
While there's a certain appeal that custom homeownership brings (who wouldn't want a home that's tailor-made to the smallest detail just for them?), there is another side to it. The simple fact is that a custom built home isn't for everyone. Some considerations make a custom home project less than ideal.
A custom built home is a major investment of both time (during planning and construction) and money. Most custom homeowners only build a custom home once in their lives. That home is ultimately their forever home, maximizing their investment for the long term.
If you're considering building a custom home, it's important to go into the decision feeling 100% confident. The last thing anyone wants is to commit to a major project and expense only to regret it after it's too late.


6 Considerations to Weigh Before Committing to Building a Custom Home
A custom home is something that you should feel proud to own each day – and not the opposite. A rushed or poorly thought-out decision choosing custom homeownership is not quickly fixed.
When evaluating the prospect of building a custom home, spend time looking at these factors (any one could be a deal breaker and save you from making an expensive mistake):
Budget
Land
Location
Timetable
Future use
Commitment to process


Is a Custom Home Right for You?
Find out right now. Take our free, no-obligation assessment:
1. Budget
While the future homeowner can exert control over costs (e.g., material selection, floor plan elements) building a custom home does represent a significant investment. Building a new, custom home may cost more than buying an existing one on the market.
To get right to it, a custom built home is one of the biggest financial investments a person can make. Those components of a custom home's construction timeline we mentioned above – each one requires money in some capacity to complete. What's more, making the project happen means having access to funds when needed – whether you can pay outright or need help from a bank or lending institution.
If you're not prepared to make the financial commitment a custom home project requires or have access to the funds needed, building a custom home isn't for you.
What Custom Home Financing Options Are Available?
Find out with our (Custom Home Construction Financing Guide
2. Land
In some respects, this is a gray area.
Yes, it is absolutely possible to start a custom home project without the land where the house will be built. There's plenty to do before crews start actual construction work.
However, the planning and behind-the-scenes work only last so long. There does come a point where you'll need that property to make your custom home a reality.
Without eventually finding a plot of land to build on, building a custom home isn't for you.

3. Location
Along the same lines as having land to build – knowing where you'd like to build matters, too.
Part of building your dream home is finding the right neighborhood. No matter how perfect your home's design is, being in the wrong location impacts feeling pride of ownership. In other words, a strong dislike of your neighborhood can lead to a stronger dislike of your custom home.
If you're unsure of where you want to build or unable to find space in the area you want to live, building a custom home isn't for you.

4. Timetable
Constructing a custom home is a project that quite literally means building from the ground up.
On average, it takes a few months to complete the actual build. With panelized construction, structural components are delivered to the build site ready for immediate installation, meaning the house can be made weather tight in about a week. That timetable doesn't include:
Creating a floor plan you love
Site prep
Obtaining permits
Securing financing
Purchasing land
Finding & hiring specialty contractors
If you're ambitious and ready to move quickly, it's possible to complete the custom home build timeline in a little more than a year. Those who are starting from scratch or really want to dig into designing their new home to the smallest detail likely need more time.
If you're looking to be in a home within a few months, building a custom home isn't for you.
Take a Closer Look at the Barden Home Building Process
Download our Timeline Checklist:

5. Future Use
Because a custom home is such a major investment, the last thing anyone wants is to build a house that falls short of meeting your needs down the road. The home you need today might not be the one you want a few years down the road.
For instance, if you're a newly married couple, it might be worth thinking about the number of bedrooms you'll need in the future. Or maybe a relative will move in with you in the future (e.g. mother-in-law suite). Or perhaps your custom home is the one you'll spend your retirement years in and accessibility or room for visitors will be a priority.
While it's impossible to know exactly where you'll be in say, 10 or 20 years' time, you can design a custom home for likely changes in your life.
If you're unsure about your future in your custom home and what you hope to get out of it, building a custom home isn't for you.
6. Commitment to Process
Building a custom home doesn't just happen. As we mentioned, it requires a lot of planning and time on-site to actually build.
To create a home that meets your vision, you'll need to be involved. That's not to say you'll be at the build site supervising work daily; rather you'll be in the driver's seat during the planning process. Your custom home dealer or builder can only do so much to make your dream home a reality – and they can't read minds, either.
Without your involvement – especially during the early stages of the custom home building process – those working on your project are left to guess. Fine-tuning a design that meets your vision is left to chance.
If you're unable to devote the time to work with your custom home dealer or builder throughout the entire process, building a custom home isn't for you.
Committing to a Custom Built Home With Eyes Wide Open
The prospect of owning a custom built home is indeed exciting. We've seen firsthand with the thousands of custom homeowners we've worked with over the years.
While a custom built home project is often a once-in-a-lifetime decision, it's one that should be made without any doubt or inability to be part of the process. When it comes to committing to building a custom home, one of the best decisions you can make is to not move forward when custom homeownership isn't right for you.
Have You Taken Our Free Custom Home Assessment Yet?
Start yours right now!