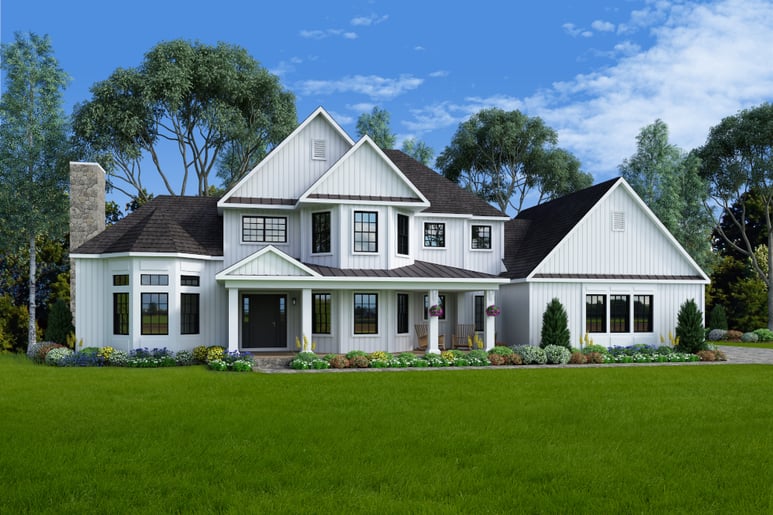 There are some styles of home that withstand the test of time.
The modern farmhouse is no exception.
Pulling together the classic charm of a traditional farmhouse with contemporary design elements, modern farmhouse custom homes have become a sought-after choice for future custom homeowners.
With their timeless appeal and harmonious blend of old and new, modern farmhouse custom homes offer a level of distinction that can't be matched.


What is a Modern Farmhouse Custom Home?
Let's first answer what it isn't.
A modern farmhouse isn't a house on a farm that was built recently (though there's no reason this style of home couldn't be the home on a farm). It's also not limited to a style of interior decorating.
Rather, a modern farmhouse is an overall style of home that's become among the most popular for custom homeowners in recent years.
It's hard not to see why.
Harkening back to a simpler time, the modern farmhouse custom home has a unique blend of traditional charm and modern amenities. They features simple, clean lines, natural materials, and open layouts that create a comfortable and relaxed atmosphere. Farmhouse-style homes also incorporate functional and practical elements such as barn doors and rustic finishes that add character and warmth to the living space.
Moreover, the popularity of modern farmhouses may also be attributed to their versatility.
Whether you prefer a more rustic or contemporary look, this style can be adapted to fit a wide range of preferences. Additionally, modern farmhouses offer homeowners a sense of simplicity that can be hard to find in other architectural styles. They prioritize function over form, allowing homeowners to enjoy a practical and comfortable space that is both stylish and timeless.


Modern Farmhouse Architecture: Unquestionable Distinction
With a side-by-side comparison of a modern farmhouse against any other home – custom, or otherwise – and the #1 thing that sets them apart is their design. Modern farmhouse architecture, both interior and exterior – is indeed unique.
Let's take a look at the defining features of modern farmhouses.


Modern Farmhouse Exterior Design Elements
The first thing any passersby sees, modern farmhouse exterior design includes elements that contribute to an overall effect that's both cozy and contemporary, blending classic and current styles seamlessly. Modern farmhouse exteriors often integrate components such as:


Gable Roof
Easily identifiable by their triangular shape. These are commonly used across many architectural styles for their simplicity and water-shedding ability.


Steep Roof Pitch
A tall steep roof gives a modern farmhouse an imposing presence whether it's a 2-story or ranch home.


Shed Dormers
Dormers are windows that project outward from the middle of a roof slope. A shed dormer (flat, single-pitched roof) provides a rustic and simple contrast to the gable roof. A dormer can add a window to a room or allow additional light into a room with a vaulted or cathedral ceiling.


Covered Porches
Modern farmhouse plans almost always include a large, welcoming covered front porch - occasionally made into a wrap-around – creating the welcoming curb appeal of these homes. A covered rear porch for hosting outdoor gatherings is another common design element.


Vertical Batten Siding
Board & batten – or vertical batten siding – is utilized on the exterior of the home in conjunction with rustic stone or brick in select areas. Board & batten gives a rustic look but can be purchased with high-end finish quality. Siding is usually a neutral color – white, grey, or black.


Metal Roofing
Standing seam metal roofing continues the aesthetic of the vertical siding to the roof and projects an image of high quality and solidity to the home.


Colored Windows
With an endless array of window options available these days, black or dark brown windows adds the "modern" to the modern farmhouse. Monochromatic all-white color schemes are also a popular option.


Rustic Wood Trim
Porch posts and large timber accents within the gable roofs add a cabin-like cozy charm.


Craftsman Doors
Solid wood doors with simple, square windows are generally utilized. No showing off with fancy glass or carvings, just a darn good solid door.
Modern Farmhouse Interior Design Elements
Like its exterior, modern farmhouse floor plans have a character all of their own, bringing together modern design amenities with classic features. They typically incorporate:


Vaulted/Cathedral Ceilings
Those steep roof pitches on the outside aren't just for show. The extra height allows for beautiful vaulted ceilings, which, as we mentioned earlier, allow for the addition of windows for extra natural light in a home.


Open Floor Plans
A nod to the old days when families spent their days together – but with a modern twist. In the past, large dining and living rooms were enough. Now, with our busy lives, the modern farmhouse floor plan includes the kitchen in the open layout bring families together more, even when doing separate activities.


Spacious Kitchens
Speaking of kitchens …
Whether you cook or not, culture has dictated that the kitchen is now the crown jewel of every new home. The kitchen is the heart of the home, after all. Modern farmhouse plans usually feature a large open kitchen with a wide island.


Split Bedrooms
Most modern farmhouse floor plans feature a master suite on one side of the home and the rest of the bedrooms to the other side to allow the occupants some privacy after spending all of that time together in the open living space.


Shiplap Paneling
Adding texture and depth to walls and ceilings, shiplap paneling creates a cozy and rustic feel. When painted in a crisp white or neutral tone, shiplap can also provide a clean and timeless aesthetic.


Barn Doors
Well, it's a farmhouse. Of course, sliding barn doors are incorporated throughout its design!


The Price to Build a Modern Farmhouse
This is a tough one to answer. It's also a question most future modern farmhouse custom homeowners lead with.
Generally speaking, modern farmhouses do cost more than other styles of custom homes. Their high(er) price points are driven largely by their unique architectural elements.
Things get a bit more nebulous when it comes to modern farmhouse custom homes with Barden – and for the best kind of reason.
Like any other Barden home, our modern farmhouses are 100% customizable, and almost every Barden homeowner does something to make their custom home truly theirs. What's more, the alterations one homeowner does is usually different than what another does (as we've said many times before, we don't think a Barden home has ever been built twice).
With the nuances from home to home, there comes differences in the final bill, which makes it hard to nail down a one-size-fits-all cost.
To shed a little more light on the price of a modern farmhouse, check out our article, "How Much Does it Cost to Build a Modern Farmhouse."
Modern Farmhouse Custom Homes
The modern farmhouse custom home is one that is sure to endure as its style has.
Bringing together modernity with the best parts of home design from another era, the modern farmhouse is a great choice for homeowners looking to have a residence that's truly distinct.
Ready to Design Your Customized Modern Farmhouse?
Contact us today!