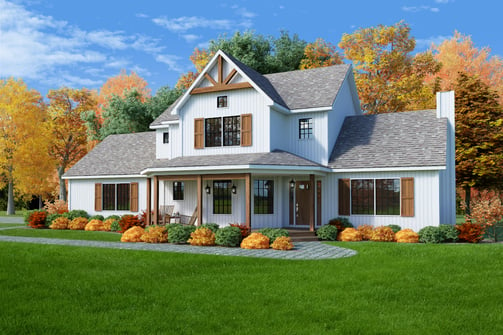 While increasing in popularity, modern farmhouses do fall on the more expensive side of custom homes.
Why?
With a distinct appearance and unique interior features, modern farmhouse design does step a bit outside of standard conventions in custom homes. In other words, the defining elements of this custom home style require a future homeowner to make more of an investment for them.
In working with our customers to design and build their dream home, we place top priority on guiding them through this process with eyes wide open -- price tag included. We didn't build our business and reputation on surprising future homeowners after it's too late.
Let's dive into what contributes to the modern farmhouse's price.


Components of a Modern Farmhouse's Price
A contemporary upgrade to the classic farmhouse, these homes are designed to look modest, yet approachable.
There's no one component of a modern farmhouse that we can point to as the primary driver for their higher cost. There are myriad factors throughout the home's entire design that push its final price tag up a little higher than other custom homes styles.
We've broken down the parts of modern farmhouse design and what comprises their cost.

Modern Farmhouse Architecture
Steep roofs add more material to the job and require more time to install, adding to the final construction bill. Dormers also add more material, extra windows, and require the roof structure they're housed in to be reinforced, which, yes, adds to the cost as well.
Covered porches may seem like a good budget option, but remember: they still need roofing and a foundation underneath. When all is said and done, a modern farmhouse porch is nearly as expensive to build as the home's interior.


Modern Farmhouse Exterior
Vertical batten siding -- a key design element for a modern farmhouse exterior-- is not much more expensive than standard vinyl siding. Where vertical batten siding becomes expensive is during installation.
While standard siding is installed horizontally, vertical siding is installed vertically. This adds hundreds of time-consuming and hazardous trips up and down a ladder for the installer. This added work and risk hikes up the cost substantially.
A standing seam metal roof is a great investment because of its durability. However, it costs significantly more than architectural shingles.
Colored windows, for reasons we can't really explain, are also more expensive than standard windows.
As for the modern farmhouse doors? Using wood and craftsman doors both cost more than industry standard choices.


Modern Farmhouse Interior Components
One of the more expensive modern farmhouse elements is their vaulted ceilings. A luxury feature, they require more framing material, drywall, and installation labor.
The modern farmhouse kitchen does cost more than a small one. However, what goes into a large kitchen -- such as counters or cupboards -- can be done at different quality levels and price points.
Open floor plans aren't always bank breakers but they do become expensive when they're beneath a second story. Two-story homes require some walls on the first floor to route plumbing, electrical, and HVAC to the second story. If the home's designer is able to plan around these essential requirements to maintain a large open floor space, you'll encounter an added cost to reinforce the second-floor deck to span the open space below.
Resource: Before building any custom home, it's important to have your financing lined up. Our Custom Home Financing Guide is full of the information you'll need to make the right financing choice for your project.

Getting the Modern Farmhouse Style Without Your Budget Buying the Farm
Though modern farmhouse-style homes are on the higher end of a future homeowner's budget, there are plenty of ways to design one that fits within their budget.
All Barden homes are 100% customizable. In other words, it's very possible to incorporate modern farmhouse aesthetics and floor plan elements into your home without breaking the bank.
Our 110th Anniversary Floor Plan Series, which includes nine custom home designs, does just that -- and they're 100% customizable, too! Our team of in-house designers is here to help you with that!
Here's how our 110th Anniversary Floor Plan Series adds modern farmhouse components into their designs:


Architecture
There really isn't much of a workaround to lower the cost of a steep roof, so that feature was omitted from our standard plans. feel free to "raise the roof" on your home.
Instead, we utilized dormers wherever possible without needing to add too much costly structural reinforcement. We also kept the windows in the dormers nice and simple to avoid needing custom windows.
Covered front porches have been kept minimal and in line with the home's foundation to keep masonry costs down. Rear porches are pictured but are optional.


Exterior Trim
This is where our team put a lot of thought. We needed to give the board & batten look without the cost, so we added vertical siding in select areas of the plans to give the modern farmhouse look without increasing costs. The same was done with metal roofing, as well as any decorative stone or brick.
Colored windows are an unavoidable upgrade cost. They become more affordable through other budget-minded modifications.
Simple fiberglass entry doors give the farmhouse aesthetic without the cost and maintenance of real wood. Costly wood porch posts and gable accents can be replicated with our standard lumber wrapped in patterned vinyl material without sourcing expensive timbers to do the same job.


Interior
All of the floor plans have been made as open as possible with reasonably spacious kitchens.
Barn doors haven't been chosen in our standard designs, but are an easy switch. The bedrooms are a split design when possible.
The best news?
Even though the standard designs don't feature a steep roofline, our expert designers are able to work vaulted ceilings into the roof truss design to add this feature on a budget!


Modern Farmhouses: An Investment in Style
Despite being a more expensive type of custom home, modern farmhouses boast a look and feel that others simply don't.
Inspired by homes present in almost every community, a modern farmhouse is an investment in a time-tested design with character.
Ready to Start Working on Your Modern Farmhouse House Plans?
Get in touch with us today!