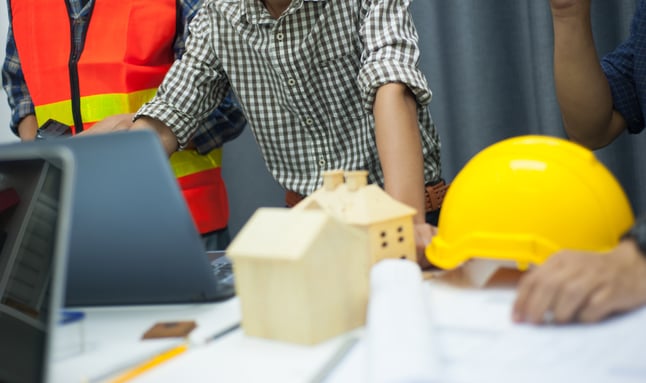 It's finally 2022.
Groundhog Day anyone?
While there has always been an ebb and flow in the industry between great years and not-so-great years, the COVID-19 pandemic has created a series of new challenges that persist. Looking ahead at this year, the custom home building industry should expect more of the same.
However, that doesn't mean there aren't factors that – if navigated carefully – create growth opportunities.


Challenges for the Custom Home Building Industry in 2022
Like 2020 and 2021, 2022 is poised to be a year that requires patience and resilience regardless of industry.
For the custom home building industry, four factors that impact daily business are again expected to be challenges to overcome:
Lumber prices
Supply chain delays
Housing market fluctuation
Labor shortages


1. Lumber Prices
The cost of building materials continues to grow, mainly fueled by lumber prices today.
According to the National Association of Home Builders (NAHB), rising lumber prices added more than $35,000 to the price of an average single-family home.
While already high, softwood lumber has increased by nearly 45% since September and climbed another 1.5% in December. The resulting cost volatility has played havoc with pricing and margins for the custom home building industry — and frustrations for customers watching prices for their dream home continue to escalate.
Experts say that limitations on raw materials and supply chain disruptions are likely to continue in 2022.


2. Supply Chain Delays
Disruptions to the supply chain became an unfortunate part of doing business in 2021. From grocery items to building components, goods and materials became more challenging than ever to source. Items that took a couple of weeks to procure now may take months.
With the laws of supply and demand in full effect coupled with little reprieve from supply chain bottlenecks, prices are higher for just about everything.
There's some reason to be optimistic about the supply chain returning to normal when it comes to moving freight. Port managers at both Los Angeles and Long Beach — two of the busiest ports in the country — expect to see an easing in the second half of 2022.
However, there will still be challenges with raw materials and freight movement by truck due to high demand and labor concerns.


3. Housing Market Fluctuation
The pandemic housing boom saw the demand for homes skyrocket. To contend with a very competitive real estate market, many people turned to custom home building as an option. Even with the lumber price forecast continuing to rise, demand does not appear to be easing in 2022.
There's a dramatic lack of inventory of existing homes across the country. The number of homes for sale last spring was at the lowest levels in more than 40 years and spurred intense bidding wars. Little has changed.
At the same time, the pandemic caused many people to re-evaluate their priorities. Many began working from home. As they spent more time at home, they began to think more about building custom homes to have more space or the exact layout and amenities they wanted. Working remotely allows people to work from anywhere, so many have started thinking about relocating to where they really want to live and building their custom dream home.
Expect demand to remain high for all of this year as home buyers continue to turn to new construction as existing home inventory remains tight and prices remain high.


4. Labor Shortages
Labor shortages also continue to plague nearly every industry.
The booming demand for home construction has left many contractors scrambling for skilled labor. While more than 3 million people work in the residential construction industry, there are 300,000 to 400,000 job openings each month. At the same time, we're seeing an aging workforce with significant retirements.
Labor shortages are prevalent across multiple trades, from carpenters to electricians to plumbers to HVAC. While the pandemic augmented a labor shortage, it wasn't entirely unexpected.
The Home Builders Institute estimates the construction industry needs more than 2 million new workers during the next three years.
Meeting This Year's Custom Home Building Industry Challenges Head-on
As custom home builders search for ways to manage their business and insulate themselves from challenges, many are forming strategic partnerships with material suppliers.
With an affiliation, custom home builders join other industry professionals to create a collective that has improved buying power. Not only does this open the door to lower prices through bulk purchasing, but also seeing faster turnaround times as the large orders are given higher fulfillment priority.
Another strategy custom home building industry professionals are turning to is using construction processes rooted in efficiency, such as panelized construction.
Designed to maximize materials, budgets, and labor, panelized construction reduces building times and the resources needed. For the builder, this has two immediate impacts:
A project is completed faster, opening schedules up for more projects
Prices are kept in check, helping the client pay for only what they need.


Home Building Industry News: Growth Opportunities in 2022
In 2022, custom home building remains a worthy and noble pursuit. You're helping people realize homeownership and build their dream home.
With demand remaining high, there are significant growth opportunities for custom home builders in 2022 despite the challenges.
Give Your Custom Home Building Business a Leg Up
Download our e-book to explore how becoming a Barden Independent Dealer sets your company up for long-term and scalable growth: