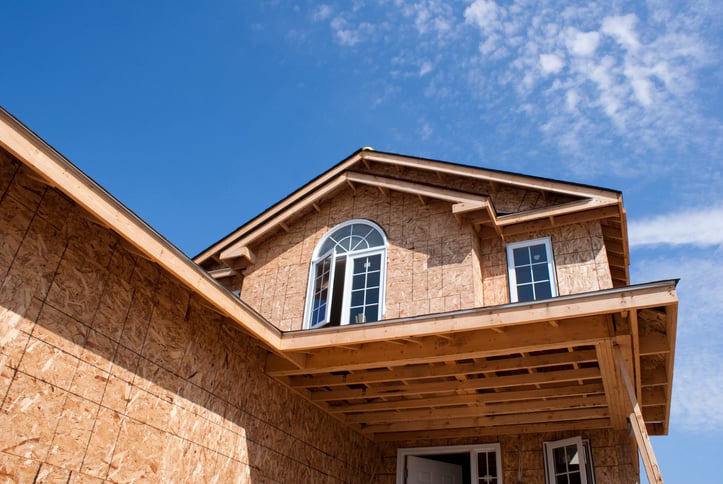 The custom home building process is indeed a process.
A completed custom home represents many months of work with plenty of milestones, from working with a client to design a home that meets all their expectations to completing finishing work.
Like any large project, finding ways to save on time and labor has a compounding effect for streamlining work and timelines. Even a little bit of efficiency goes a long way in a custom home project.
Panelized construction brings a new level of optimization to the entire home building process without compromising on choice or experience for the client. A hybrid of stick and modular building methods, panelized construction allows builders to complete a project with an efficient, client-centric me.


Panelized Construction: Efficiency in Action
Rooted in efficiency and precision, panelized construction upgrades the custom home building process. Improving key aspects of a project from the beginning, panelized construction allows for:
Easier customization
Faster construction
Less labor
Less waste


1. Easier Customization
Every client is different. Likewise, their wants and needs for a dream home are, too.
For panel home builders, tailoring a house's floor plan to meet clients' visions for the perfect home is easy. Unlike other construction methods, panelized construction allows for 100% customization. You won't waste time trying to re-engineer a floor plan as you would with modular construction, nor will you need to start from scratch as you would with stick building.
Altering an existing floor plan or designing a home from square one is a simple and straightforward process.


2. Faster Construction
With a streamlined construction timeline, it doesn't take long for a panelized home to take shape.
A panelized home's construction starts in a factory where its wall panels and trusses are fabricated – a process that takes around six weeks. Once the components are ready, they're shipped directly to the build site according to your schedule ready for immediate construction.
Within two weeks the structural components go up and the home is made weather tight. Nothing except the house's exterior is left exposed to the elements and weather delays are all but eliminated. Work to the inside of the home happens uninterrupted.


3. Lower Labor Costs
Labor costs are one of the biggest variables in any construction job. Any savings can result in lower costs that can be passed along to the future homeowner and increase your margins.
Because the majority of panelized construction happens in a factory, time spent at the build site is minimized. This has two immediate benefits for your project and your clients' wallets:
Your team needs fewer members to complete the actual construction.
Your team spends less time completing the build.
4. Less Waste
With the high price of wood, unused lumber gets expensive. Construction of the average stick built home can result in more than 3,000 pounds of wood waste.
Panelized construction, however, is synonymous with precision. Since the panels and trusses of a house are made in a factory to exact measurements and use only the materials needed, there's little waste.
For a custom home builder, this means providing a more cost-effective project as clients won't pay for materials that will ultimately become scrap.
Besides the cost savings, panelized homes are more eco-friendly.


How Panelized Construction Benefits Your Business
The last thing a custom home builder wants is to use a construction method that prevents their business from reaching its full potential.
Panelized custom home construction eliminates many of the impediments – and headaches – those in the home building industry regularly contend with. Providing a streamlined and precise process, panelized construction allows your business to:
Finish a project faster and move on to the next
Juggle multiple projects with existing resources
Provide nearly unlimited design options
Consistently deliver a quality finished product
Reduce your supply chain
While these benefits are ideal for the custom home builder or dealer to grow and scale their business, they ultimately lead to the most important thing in home construction: client satisfaction.


Panelized Construction: A Proven Building Method
For the home builder or dealer looking to expand their business's offerings or add a new level of efficiency, panelized construction is a worthwhile addition.
Streamlining custom home building, panelized construction makes it easier to complete projects faster and service more clients.
Bring New Efficiency to Your Custom Home Projects Beyond Construction
Download our e-book to learn about how becoming a Barden Independent Dealer helps you grow your company in new ways: