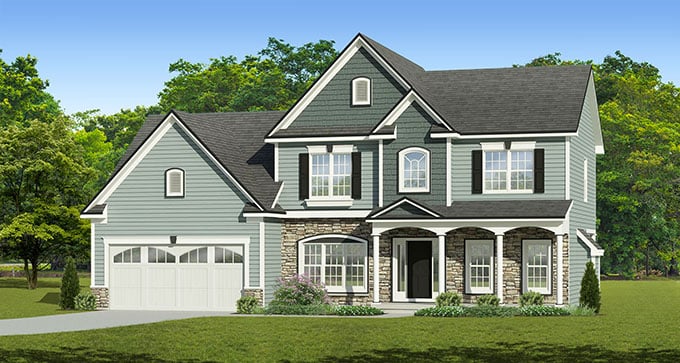 As we approach the end of any year, we always like to take a look back at the many homes we've helped our clients make a reality.
From a practical standpoint, this annual evaluation helps us plan for the next year. The homes our customers design and build often include elements that are a good indicator of what we can expect in the next year.
So what custom home trends do we anticipate for 2023?
We have a few ideas.


Prediction: 2023's Custom Home Floor Plan of Choice
To get right to it -- what do we predict being the most popular floor plan for 2023?
The same as the last several years: the client-supplied plan!
This floor plan taking the top spot again isn't a surprise. As we've said before -- despite having a large catalog of floor plans to choose from, we've never built one of them. More often than not, our customers use one of our floor plans as a base and customize from there.
A custom floor plan that you've created guarantees that your next home is absolutely tailored to your needs. What's better than a home that's designed for you and your family?
As we've seen, the majority of the homes we manufacture components for, and our Barden Independent Dealers build are provided by the customer, whether they:
Found a plan somewhere else
Had a plan drawn by an architect
Put their confidence in our in-house design team to create a custom plan from scratch
Need Some Inspiration or Curious What's Available?
Check out our online catalog of floor plans:
Prediction: 2023's Most Popular Style of Home
During the past few years, ranches have become the most popular type of home. We don't expect that to change in 2023. You can't go wrong with a ranch.
Many of our customers are looking for a custom-built home they can comfortably spend their retirement years in. They're coming to us to design a more compact home with flexible and functional arrangements.
Ranches check all these boxes.
Like all Barden homes, ranches are easily customizable. Despite being one story, ranches can be designed for:
Plenty of storage space
Extra room for guests
Our Dawson and Onondaga floor plans are great examples of ranches designed to be your forever home.
A Close Second: Multi-generational Homes
Whether it's a duplex or a bigger home that includes an in-law suite, we're expecting multi-generational homes to be the second-most-popular type of home.
Because of a tight housing market and high interest rates, custom homeowners are looking to maximize their living spaces. In addition, living situations continue to evolve, with many generations of a family living under one roof.
As we're now seeing it, more custom homeowners are designing floor plans that feature additional living spaces – both common and private areas – to accommodate an expanded family. We're also seeing custom homeowners designing homes in anticipation of a future living situation. Rather than including say, an in-law suite or finished basement, they're designing their homes to be easily added onto or completed when the time is right.
While there is an ebb and flow to the housing market and interest rates, we don't expect the popularity of this custom home trend to wane in 2023.


Prediction: The Must-Have Custom Home Features
In considering custom home design trends for 2023, there are a few popular features of 2022 that we expect to see in the next year:
Flex spaces: Coming off of a pandemic that forced everyone to re-evaluate their living spaces, multi-purpose rooms (flex spaces) offer versatility. Designed to serve multiple purposes, flex spaces can become a home office as easily as they can be used as a playroom or extra bedroom.

First-floor master bedroom

: Providing easier access to a home's key amenities, first-floor master bedrooms future-proof a house for homeowners who plan to grow old in their residences. Down the road, there won't be a need to completely rearrange a living space or find a new home that's more accessible. What's more, in two-story homes, a first-floor master bedroom provides a degree of separation -- and privacy -- from second-floor bedrooms (the kids' rooms).
Finished basement: Maxing out living space in an existing floor plan, finished basements let you do more within a home's footprint. A bonus room of sorts, finished basements are used for multiple purposes, such as:
An enternainment room
Home offices
Home gyms
Guestrooms
Outdoor spaces: Another custom home element driven in popularity by the pandemic, outdoor spaces upgrade a home's functionality while providing a little more seasonal room. Covered porches and patios with accompanying landscaping are giving homeowners an outdoor oasis of sorts.


Looking Ahead to Custom Home Building in 2023
As we look forward to the next year of building and seeing what shape custom home trends take, we're eager to get to work with our next clients on their custom-built homes. So are our Barden Independent Dealers.
Regardless of the type of home or its customization elements, it's always a rewarding experience for our in-house design team to help a future homeowner take their next home from concept to design.
Ready to Build Your Next Home?
Learn about how our panelized construction process makes designing and building your next home a breeze: