As in past years, 2021 was a busy year for us.
Throughout this past year, we and our Barden Independent Dealers helped plenty of customers build a wide variety of homes. With our catalog of hundreds of fully customizable floor plans to choose from, it's almost impossible to see the exact same home constructed twice.
While our floor plans are each unique and easily adjusted to meet different needs, there are a few we feel are worthy of a second look as stand-out designs. We've gathered our favorite custom home floor plans that we're hoping to see more of in 2022.
The Modern Farmhouse: An Update to A Classic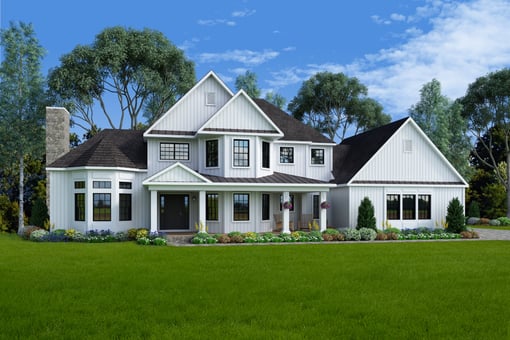 Spacious. Functional. Timeless. Distinct.
The modern farmhouse is something we're absolutely hoping to see more of.
Modern farmhouses aren't limited to a single floor plan. Rather, it's a type of home, and it's becoming a very popular style.
With defining features, such as gable roofs, vertical batten siding, and rustic wood trim Modern Farmhouses truly stand out.
Resource: Learn more about Modern Farmhouses.
The Craftway Cottage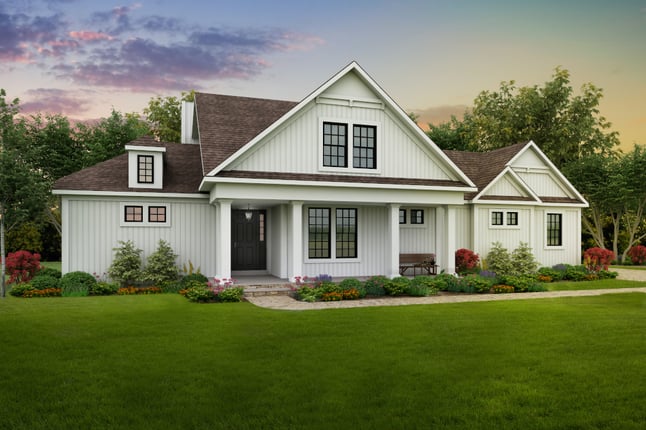 While its design can take many forms, there is one floor plan we feel every future modern farmhouse homeowner should consider -- The Craftway Cottage.
With 2,873 sq.ft., the home features 4 bedrooms and 3.5 bathrooms. What makes this home stand out is its versatility. Its first floor includes:
A great room/kitchen combo
Private study or home office
Morning room and covered porch
Master bedroom suite
On the second floor, there's:
3 bedrooms
2 bathrooms
Loft area
The Craftway Cottage is perfect for the homeowner who's looking to stay in their house long after the kids have moved out.
Why we love it: The Craftway Cottage has everything you need now and in the future.
Open & Split-Level Ranches
Ranch floor plans remain firmly the most popular style of home we offer. Representing the combination of efficiency and functionality, ranches are a popular choice for those looking to downsize or live comfortably in during their retirement years.
More and more, we're seeing clients push ranch floor plans to the max. The two most common layouts now being integrated into ranch designs are:
Open-concept floor plans: Long gone are the days of close-off, disjointed home layouts. Put simply, future ranch homeowners are looking for their houses to have large, communal spaces. Open-concept floor plans meet this need, letting homeowners take otherwise dormant space in traditional ranch layouts and put it to better use when integrated into a space such great room or extended kitchen.


Split level: While ranches are traditionally single-story homes, adding another level (floor) opens the doors to more possibilities with this type of house, such as extra bedrooms or lofts. The addition of extra rooms does not impact privacy -- being located on another floor provides a degree of separation from the rest of the home.
Regardless of design style, ranches are ready for customization to be the home you've always dreamed of.


The Dawson: A Ranch With Appeal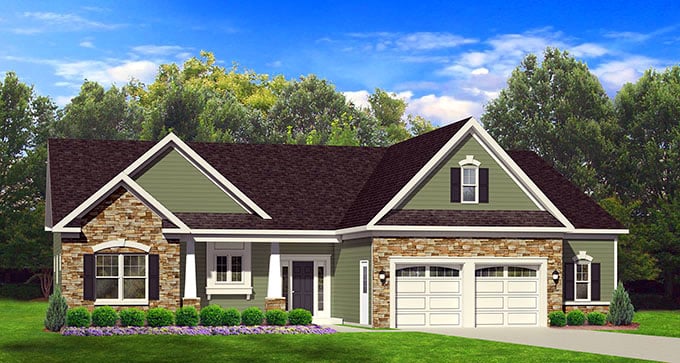 The Dawson is one of our most popular custom homes. But we're not hoping to just see clients build this ranch as it's designed.
As the customer supplied floor plan has been our most popular floor plan, what we are hoping to see is clients take The Dawson floor plan and make it their own. With 1,598 sq ft of space -- including 3 bedrooms and 2 bathrooms -- this floor plan has plenty of wiggle room for customization. Working with our in-house design team, The Dawson floor plan is ready for you to make it your own.
Why we love it: With an open living space, front porch, and master suite, what's not to love?
Robert's Way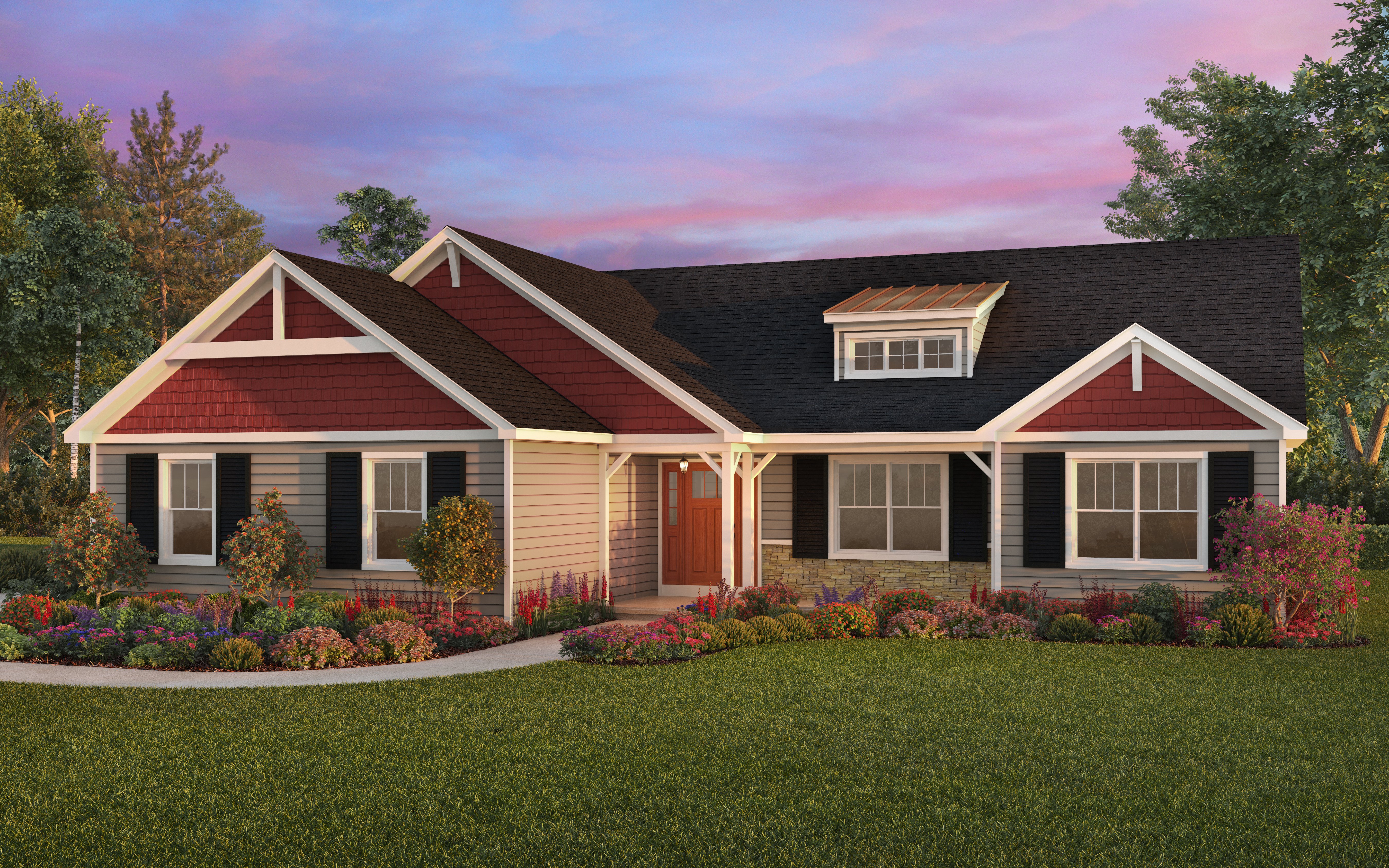 Slightly bigger than The Dawson, Robert's Way is designed to be the last home you'll ever need. Boasting 1,877 sq. ft. of floor space, Robert's Way includes 3 bedrooms and 2 bathrooms. In addition, this floor plan also features:
A luxurious master suite
A large open living space
A daylight gallery to let in natural light
Wide hallways and door openings
The Robert's Way's exterior is inspired by a classic craftsman-style ranch but has two-tone clapboard and cedar shake siding for boosted curb appeal.
Why we love it: Though one story, Robert's Way doesn't leave you feeling cramped for space -- quite the opposite, in fact.


The Floor Plan We'd Love to See The Most? Yours!
While these house plans are a few we're hoping clients will consider for their next house, our #1 priority is helping you build your own home -- one that's best suited for you.
No one knows what you want in your next home better than you. Our Independent Dealers and in-house design team are ready to get to work with you to make that happen.
In the meantime, check out our floor plan gallery for some inspiration: