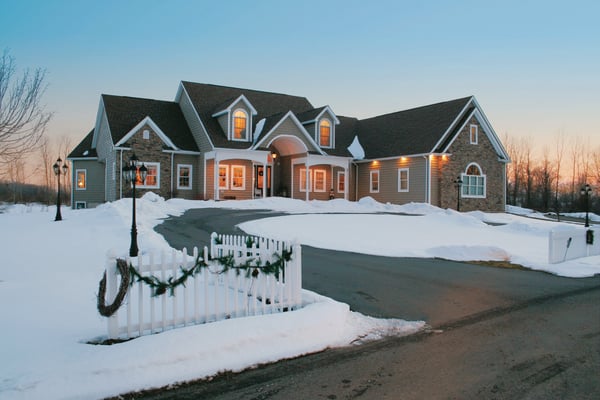 Panel built homes are easily described as a hybrid between the traditional, "stick building" method of new home creation and modular building. This hybrid quality of panel built homes often breeds comparisons between it, and other methods of building.
Panel building combines all the customization options of stick building with the efficiency and speed of modular building -- while bringing an important new element to the table, too: quality.
It's not uncommon for prospective new homeowners to be searching for the pros and cons of panel built homes to help them decide if it's the right method for them, so that's what we've outlined today.
Pros of Panel Built Homes
It's hard to define all of the pros of the panel build process, since it offers something valuable for every different homeowner.
For the purposes of this article, we've included some of the most common feedback we hear below:
1. One Point of Contact
The home building process is simplified and streamlined when it comes to panel built homes. That's because there's only one point of contact, something that takes various suppliers and individuals out of the home building process.

What's more is your initial contact can help you select the right suppliers for the home you're looking to construct, but also allows full freedom in choosing your own suppliers and subcontractors if you choose.
Every step, from financing to construction, is coordinated through your panel building partner and their team of experts.
2. Can Build On Any Site
It doesn't matter whether your home lot is in a subdivision or on rural land, it's a fit for a panel built home.
Panel built homes can fit into tighter spaces than other types of homes, making them ideal for crowded subdivisions.
Additionally, when building in rural spaces, it can be hard to find a full team of experts who are equipped to assist you in every aspect. Skilled subcontractors can be hard to come by, and it can be hard to discern who to trust the important project with.
3. A More Efficient Home
Not only can panel built homes be constructed to be more sustainable, but human error is greatly reduced during the fabrication process as well. Additionally, less materials are wasted during the precision manufacturing process, since every dimension is accounted for.
Because parts of the home are constructed in a factory, advanced software is used to make home parts and high-end tools are used to make the right cuts.
It all adds up to more efficient, more sustainable housing.
4. Customization Options
When you construct a panel built home, you have design freedom that is not available when opting for modular building.
Homeowners are involved every step of the way and aren't limited by sizes, shapes or materials.
Cons of Panel Built Homes
Some other considerations associated with panelized home construction:
1. Potential for Higher Cost
Depending on the size of your house, panel building may be more expensive than modular building. But there are a few things to note about the potentially higher cost that comes with panel built homes.
One, the materials used and engineering during the process are more refined, controlled, and precise than traditional building and most modular building methods.
And two, the money that you spend on those materials is not wasted by the quality depreciating because they are exposed to the elements during traditional building.
Additionally, once you move into your final home, you do not need to worry about your windows gapping and allowing for a draft or your roof caving in due to snow load. All of that is accounted for during engineering during the panelized home process, and will save you countless money in the long run.
Panel building is generally a less expensive option than stick building.
2. More Homeowner Involvement
It's true that with panel built homes, buyers are typically much more involved in the process than they would be when working on a conventional home.
But, again, is this really a bad thing? As a homeowner, you want to ensure the home that you're building is exactly how you want it, so regardless of the type of home you're building, there's bound to be a high level of involvement.
This involvement just happens to be a bit more when it comes to panel built homes.
Still Have Questions About Panel Built Homes?
Our team is happy to answer any questions you may have about the panel build process, and the logistics of building your dream home.

Feel free to reach out whenever is convenient to you, and someone will be in touch quickly!