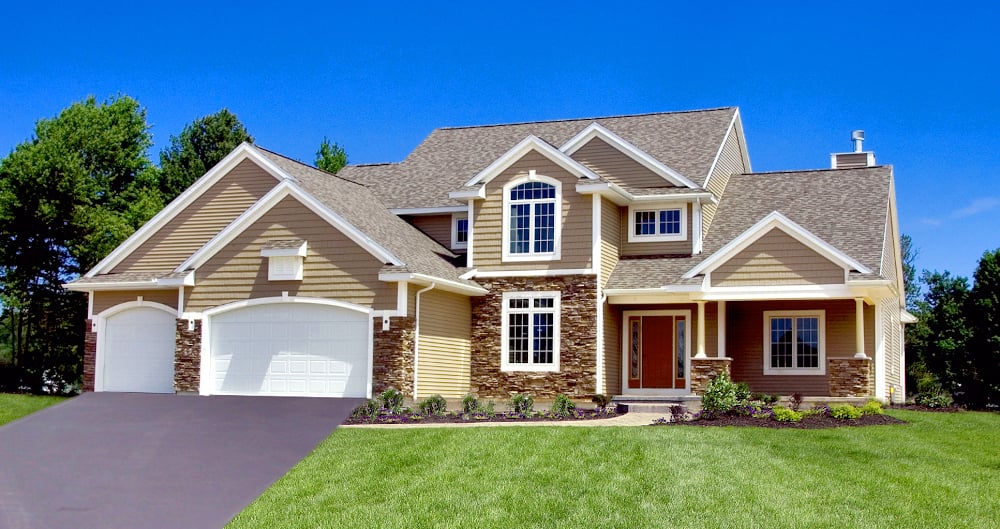 After being in the home building business for more than 70 years, we've become quite familiar with the myriad questions customers have.
Building your next home is no small job and there's a lot to consider. That's especially important when you're working with our team to design your fully customized home.
We've rounded up the 11 most common questions we get from future new homeowners to help you along as you consider working with us:


1. What type and size of homes does Barden design and supply?
We design all types, sizes, and styles of homes, including:
Traditional
Contemporary
Colonial
Cape
Chalet
Log
Vacation
Multifamily
Commercial
We'll custom design any exterior and interior to suit your preferences!

Check out these resources for more information:

2. Is Barden Building Products a modular home company?
We are not, but we don't blame you for being confused.
While a modular home company builds most of a home in a factory -- complete with interior fixtures, windows, siding and roofing -- Barden homes are panelized homes. North American Truss, our manufacturing division, makes a Barden home's wall panels and roof system (fully custom and built to order) and ships them to the site in small segments rather than fully completed modules or "boxes". The rest of the home is then completed on site.
Check out these resources for more information:
3. Am I limited to selecting the homes from your catalog?
Absolutely not!
We often joke that we have more than 200 standard plans and have never built a single one of them. Many of our past customers have used our plans as a base and made modifications to best meet their needs. Others have worked with our in-house design team to create a fully customized home from scratch.
With our in-house design team coupled with our decades of experience in the home building business, there's really no limit as to what we can come up with for your new dream home.
Check out the link below to see a few ways past customers have modified and modernized our Eastfield plan:
4. What quality of construction can I expect in a Barden home?
We take immense pride in our work and provide you with building components made to the highest standards.
Understand that we aren't selling finished homes; we're working to be your first choice as the company that designs your home and supplies the materials for it. Our reputation is only as good as the quality of our raw, unfinished product. We're happy to share our standard specifications and entire manufacturing process.
We'll also build to any specification above our standard at your request.
Check out these resources for more information:
5. What does it cost to get started?
An initial deposit of $500 is required for preliminary home design. This covers as many rounds of revisions as you'd like. A second deposit of $1,500, as well as a design and supply contract, comes once you're happy with the design and price that we've come up with together.


6. What does it cost to build per square foot to build a Barden home?
This is the most commonly asked question we get from future homeowners. It's also by far the most difficult to answer.
There is no one answer and we urge you to avoid asking for one while shopping builders.
Because of wide variations in specifications, style, and design, a general cost per-square-foot figure is tough to calculate to provide a fair and competitive analysis.
Our homes are priced and quoted on an individual basis. This ensures an accurate and transparent quote.
Check out these resources for more information:
7. Is financing available for my building lot and Barden home?
We do not offer an in-house financing solution. We encourage our customers to seek out a financing solution that's best for them.
Check out this resource for more information:
8. What is the normal course to follow in making a buying decision?
The first thing you can do is make sure all of your initial questions are answered and you're well informed by contacting us.
We have no interest in fast-talking or hustling you. We want our customers to feel confident and well educated as they make decisions about their next, custom home.
Your next step is to have a meeting with your local Barden Independent Dealer, which we're happy to direct you to.
From there you'll begin designing your home while planning and budgeting your project and preparing your building site.
At the completion of design, planning, and prep, Barden will deliver all of the materials for your home directly to your job site exactly as they're needed!
Check out this resource for more information:
9. How long does this process take?
Actual construction times usually fall between 4 and 6 months, and are dependent on things like weather conditions and contractor availability in your area.
The biggest variable is the time spent planning your project. Future homeowners who are decisive and move quickly can see pre-construction finished in 1 to 2 months.
Check out these resources for more information:
10. Can I just hire you to design a home?
Unfortunately, no. Our design services are reserved for those who intend to build their homes with our products and Barden Independent Dealers.


11. Can I do some of the work on my new home myself?
You should discuss the options of an "Owner/Builder," "Do-it-Yourself," or "Turn Key" programs with your Barden Independent Dealer.
We're often asked what the cost of "just a shell" would be so the owner can finish the inside of the home themselves. We're happy to do this as long as the owner understands the situation fully and has the support and expertise to complete the job. We do NOT sell directly to customers without consulting a Barden Independent Dealer to ensure that our customers are fully informed and set up for success.
Because so much goes into designing and building your home, we get plenty more questions from customers as we work with them. Check out our FAQ page for more answers to questions we often get.


Still have questions?
We hope so! Contact Jen Srock today for quick answers to all of your home building questions at jsrock@bardenhomes.com.